As the summer gets closer, The heat start to raise and people start to struggle going on with their daily tasks, Gardening is no different.
With that, we decided to do our job of finding the 5 best gardening shoes to wear for hot weather. Here is the list of what we end up with after our testing.
Sloggers Garden Ankle Boots (2841CDY09).

Original MuckBoots Daily Gardening Shoes.

Sloggers Garden Shoes (5102BK08).

Tengta Gardening boots.

JACKSHIBO Low Ankle Garden Shoes.
With these you be sure to say goodbye to any uncomfortable feeling you may have in your feet during your daily activities.
best shoes to wear for gardening
Sloggers Garden Ankle Boots (2841CDY09)
Made in USA, These sloggers are perfect for when it is too hot to wear a boot but you still want some protection on your feet.
Heavy duty soles for an extra layer of protection, With the "all-day-insole" that provide the best comfort for your feet during your gardening work.
Moreover, The upper part is made from soft, flexible, 100% recyclable, odorless and medical grade material.
Features:
Rain proof.

Provide comfort on the soles.
Extra layer of protection.
100% recyclable.
 Premium quality materials.
Original MuckBoots Daily Gardening Shoes
Lightweight and well made, The Muckboots shoe is the go to when doing backyard garden work.
Made with waterproof material so you don't have to worry about rain or anything like that and an easy to clean dirt resistant layer on top.
Feature durable, natural rubber uppers with an insulated shell so you can keep your feet cool and comfortable in the summer as well as warm and dry in the winter
The design is simple and sleek which let u wear it even for casual use.
Features:
Durable and lightweight material.
Easy to clean.
Waterproof and Dirt resistant.
Minimalist design allows versatile use.
Keeps feet cool in the summer for maximum comfort.
Sloggers Garden Shoes (5102BK08)
With its very bright and funky look, This one is sure to give you some swagger when doing your work at the garden.
Has the "all day comfort" insole to maximize the support on the feet and reduce all types of tension on the sole.
Also, Made in USA from 100% recyclable material. Has no latex and is also Vegan friendly. Fairly easy to clean, All you have to do is use a Hose to clean off the dirt or you can just wipe it with wet cloth.
All in all, The whole shoe is made to be very solid and sturdy, The design is also quite adorable and looks just as good in person.
Features:
Sleek design.
100% Vegan friendly Recyclable material.
Quick and easy to clean.
Thick and firm build.
Best seller and highly recommended by buyers.
The Tengta did a great job in making their shoe have a stylish look to it.
Has a rubber sole which make it very flexible with high traction resulting with incredible performance in grassy sandy situation.
Lightweight and comfortable on the feet, Integrated design of neoprene for easy on and off. Perfect for gardening, Hunting and any other activity with rough environment.
Features:
Flexible and high traction.
Comfortable + Durable, Easy on and off.
Waterproof with a self cleaning exterior.
Stylish design.
Multiple Sizing for maximum suitability.
Jackshibo Low Ankle Garden Shoes
The Jackshibo boots are quite a pick for looking for quality gardening shoes for an affordable price.
Made with Synthetic Textile from the inside and Rubber/Fabric from the outside. Has stripes and natural rubber for excellent grip sole (Anti-slip).
Furthermore, Support your arches and ankles making it fit perfectly and gives an extreme feeling of comfort to it.
Breathable, lightweight and waterproof garden shoes, No more need to worry about where you step again.
Features:
Breathable and lightweight.
Long-lasting, easy to clean material.
Comfortable and fits.
Thick & Flexible sole.
widely used in outdoor activities.
How to pick the best shoes to wear for gardening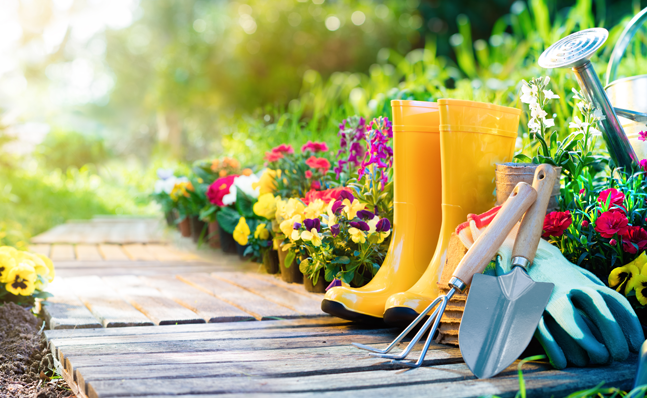 When searching for good shoes to wear while gardening it is easy for someone to think small and go for cheap plastic clogs.
The problem with that is not only will it be unusable after just a few months of use. But it will also mess up with your feet which can lead to infections and health complications.
Therefor, Picking a good comfortable, Waterproof, Breathable gardening shoe will save you both money and time in the long run.
Here is some things to considered before buying a shoe:
Size (Make sure it fits your fit before ordering).

Flexibility (The more the better).

Durability (You don't want to buy one made with cheap material that wont last long).

Level of comfort (Again, The more the better).

The upper build (Includes breathability, cleaning difficulty, Sturdiness …etc).
Helpful Gardening Guidelines When In The Heat
Here is a list of things you should try to accomplish when gardening in the heat during summer:
Drink plenty of water and don't wait until you are thirsty to drink.

Restore salts and minerals that are pushed out of the body while sweating.

When gardening, Avoid hot foods and heavy meals.

Wear appropriate clothing and use sunscreen if possible.

Do your gardening work before or after the sun peaks, Never during it.

Do not exhaust yourself and go with a slow pace.
Conclusion: 5 Best Hot Weather Gardening Shoes To Wear
Having good protection against the heat of the summer as a gardener is crucial for a better performance of both yourself and your garden.
We did our best to boots that are good in the heat and can provide all the necessary protection as any other regular outdoor working boots.
We hop you enjoyed our little article on the 5 best hot weather gardening shoes to wear in the summer, If you have anything you would like to add or any question about the topic leave it down below.