For those who tour and travel on a regular basis, flight appears to be the best method of traveling for them. With flights, One can reach almost anywhere in the globe, It is also considered the easiest, most comfortable and fastest way of traveling all over the world.
Thanks to the current trend and technological advancement, Flights are currently the most common way of traveling due to the rates (Cost of flight) slowly becoming more affordable as time passes.
Suppose you are planning to fly overseas, there are several steps and procedures one has to follow. The discussion below will explain to you how to board an international flight step by step.
Call your airline company to confirm the booking.

 Head out to the airport.

 Check your travel documents.

 Proceed to the security check.

Locate your terminal/gate.

Do some shopping while waiting for your flight (optional).

Proceed for checking as you get to the air-bus or bridge.

Get in the plane and settle in.
Steps to board an international flight
Call your airline company to confirm the booking
If it is actually your very first time taking an international flight, it may seem very exciting and at the same time create some anxious moments. Millions of people fly on international flights every time.
For you to be as calm as everyone else, you will be required to do good homework before taking a cab to the airport. These international flights generally cross over various countries or even move from one continent to another.
To be on the safe side, secure all your travel documents and keep them close so that if authorities require you to show them to them, you will not have to struggle to retrieve them.
When you are planning this flight, check information from the official page on health, currency and other topics of interest.
It is also very important that you call the airline companies well ahead, for some may require more time for boarding purposes. This will help you know how much time you have before the planes actually depart.
The trick here is that you get to the airport at least 2-3 hour in advance, This is to make sure you have enough time to fix any problem you may run into.
To begin with, what you will do is basically either get a friend/family to drive you to the international airport or you can also call an uber or a cab and it'll drop you off at the airport.
Check your travel documents and verify your flight
Upon arrival at the international airport, you should confirm from your ticket what kind of flight you have actually booked. These tickets will have every detail regarding your flights (the date and day, type…etc).
They will also have the guidelines about the terminal to which you should go to. You will directly go to the Departure Airport because you are flying overseas to another nation.
Ensure you get to the airport on time because airlines are normally very strict on time. Ensure you at least get to the airport about three hours earlier before the gates for your flight closes. You should know that gates normally close thirty minutes before the flight actually departs.
On arrival at the airport, Look at the large arrival/departure screens. They will be able to inform you when the check-in counter is open and which number it is.
Once you get to the departure, you may use a cart to load your luggage on and carry them easily as you walk in the airport. You will then go to your designated gate to be checked in
Proceed to the security check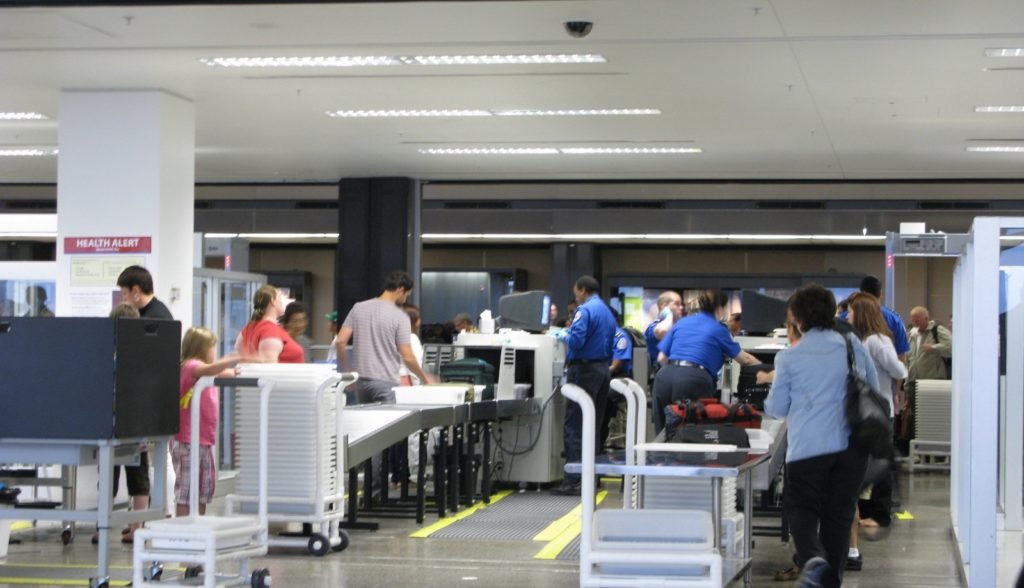 The second stage is the security check. Here you will be required to hand in your luggage for it to be scanned. If one is carrying electronics with you, you will be required to put them on a tray so that they can also be scanned.
You will also be required to go through a security check so that your body can get scanned. Then security officers will verify your travel documents. The luggage you are carrying will also be weighed respectively.
This is to ensure it does not exceed the weight limit mentioned on your ticket. Just cooperate as you undergo through this process and follow any instructions the officer's request of you.
Locate your terminal/gate
Because you are taking an international flight, there is one more step that you will undergo. It is called "immigration".
Once this department verifies you, the next thing you will be required to do is go straight to the gate number. By now you should to be aware of the airline you are taking. (Qatar, Emirates airlines…etc).
Once you get done with the immigration part, you can proceed and get to a duty-free area and be able to purchase commodities.
Do some shopping while waiting for your flight (optional)
If you were able to arrive earlier and have some free time on your side, you can do some purchases which will be at a cheaper cost considering it is tax-free.
Nevertheless, You should ensure that you have reached the terminal gates before they get closed.
You should then listen keenly to the announcements and also check your cell phone for message updates regarding the changes that may have been made pertaining your flight.
Please make sure you are paying maximum attention during this stage. Upon reaching the given gates, one will get to a waiting area. this is the area you will stay as you wait for your flight. 
Proceed for checking as you get to the air-bus or bridge
When the process of boarding begins you should follow the queue smoothly since you will be checked again by the airline official as you proceed to get into a bus which is also known as the aerobus which will slowly transport you to your aircraft.
If the aerobus is not available you will have to pass through a bridge known as the aerobridge which leads you straight to the aircraft. The process of getting to the aircraft solely relies on the way the airport was built
Get in the plane and settle in
The moment you are getting to the plane, you will once again be checked by the airline's officials who will scan you and check your travel documents once again to ensure that indeed you have boarded that plane.
Then, You will get into the aircraft and find a flight attendant in the plane who will welcome you on board. You will then proceed to your seat or you can ask the cabin crew to assist you to locate your seat easier.
You should then follow the instructions of the flight attendants keenly and relax. Having done all this you are good to go and have successfully boarded your flight.
Conclusion: How To Board International Flight Step By Step
All that is left for you to do is stay calm while waiting for the pilot to start the engine and fly you to your destination.
If you enjoyed our guide on how to board international flight step by step. If you have anything you would like to share make sure to leave it down below.